Steamcoaster SS Robin given £950K lottery money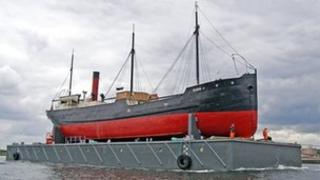 One of the world's oldest surviving steamcoasters has received £954,500 from the Heritage Lottery Fund (HLF).
The money will be used to put final touches on the 300-tonne ship before it is opened to the public.
The cargo steamer, which is moored in the Royal Victoria Dock in Newham, east London, was built at Thames Ironworks and launched in 1890.
The grant will fund the conservation of the engine rooms, crew accommodations and a visitor centre.
The vessel, which was in service for 80 years, underwent a £2m refit in Suffolk before returning to east London last July.
Funds 'critical'
Sue Bowers, head of the HLF for London said once the vessel is opened to the public visitors will get "a fascinating insight into the ships' past dating back to 1890 as her archive and collections of some 4,000 items including original documents, maps, plans, and navigation tools are made publicly accessible for the first time".
The ship would also host "overnight experience" for school children to give them a taste of tasks aboard the ship.
Nishani Kampfner, co-founder of the SS Robin Trust, said the funding, which accounts for 77% of the project cost, was "absolutely critical".
She said: "The grant will also be used to greatly improve access, including disabled access for the first time, and conserve the original features and interior spaces."
Most of the refurbishment work is expected to be completed by late 2012.