London 2012: 50% increase in parking fines agreed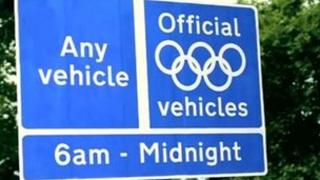 A rise of just over 50% in parking penalties on Olympic routes during the Games has been agreed by London Councils.
The parking authority said on roads with Olympic traffic, those breaking parking rules will be fined £200, instead of the current maximum of £130.
The added penalty for having a vehicle towed away will be £300.
London Councils said a strong deterrent was needed to stop people bringing their cars to the Games.
'Robust deterrent'
The decision does not mean a change to basic parking charges.
It covers the Olympic Park and River Zones (the Park itself, Excel, North Greenwich Arena, Greenwich Park and Royal Artillery Barracks).
Councillor Catherine West, chair of London Councils' Transport and Environment Committee, said: "We don't want people to come to the Games by car.
"Demand for parking in London, especially around the venues, will be extremely high this summer and we want to protect residents and businesses in streets which are not used to major events."
She said the existing penalty, which could be as little as £16.25 each in a car of four people, may have been seen as a "price worth paying rather than a deterrent".
She added: "It is important to remember that penalties are completely avoidable if drivers park legally."
All Games ticket holders will be given free travel on public transport in London as part of their ticket.
But some are expected to try and drive to venues in the hope of finding a parking space. The committee felt that could mean residents' parking spaces and business loading bays would be filled and entry to premises would become restricted.
Of the 23 local authorities that responded to London Councils' consultation, nine were in favour of an increase in penalties, including Greenwich and Tower Hamlets.
Greenwich said a "robust deterrent" was required.
But 14 boroughs, including Barnet, City of London, Hackney, Haringey, Havering, Kensington and Chelsea, Kingston upon Thames, Lambeth, Richmond and Westminster, were against the increase.