Did TfL's promises of better snow co-ordination work?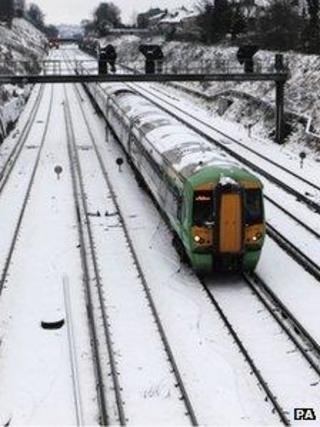 So how did the capital cope during the snow over the weekend?
Heavy snowfall had been predicted, so how transport systems coped indicates how resilient the system has become.
Transport for London (TfL) told us improvements have been made in outlying areas of the Tube network that suffered last year.
We were also told co-ordination had improved between the transport authorities.
Perhaps there were improvements, but the snow hit on a Saturday night when the network is not busy - and as such it was not a real test.
I've had emails this week from some commuters caught up in the problems.
Rosemary Wall was trying to get to her home in Essex. She left Tottenham Court Road at 22:45 GMT on Saturday and after using a variety of Tube lines - affected due to "unexplained" service suspension and engineering works - buses and finally a black cab she got home to Buckhurst Hill, at the end of the Central line, at 03:45 on Sunday.
Of course, travel is extremely subjective but she is so angry she has written to the Transport Secretary Justine Greening about her experience.
In her letter she says: "I urge you to investigate what happened and why members of staff were lacking at the stations and why the ones present were completely uninformed and unable to assist passengers.
"Where were staff and the police to prevent pushing and shoving?"
Joined-up thinking
"I would be very grateful for a reply and an assurance that this series of incidents is taken seriously."
She also says the "fiasco" appears to have been under-reported by the media.
What it makes you wonder is what could have happened if the snow had hit in rush hour? Wouldn't thousands have commuters experienced a similar fate?
Mrs Wall's letter highlights a lack of staff, a lack of communication and information, a lack of joined-up thinking between the Tube and rail companies and a lack of planning.
These are the exact areas that we had been told would be addressed.
The only person to come out of it well is a black cab driver who, after they'd walked for over an hour, picked them up and took them home for free.
Was her experience a one off in the capital? Did the transport system cope? Was it more by luck than judgement? Where were the extra staff?
By the way, my colleague meteorologist Peter Cockroft, who presents BBC London's weather, tells me snow is expected west of London on Thursday night into Friday.
Let me know what you think.