Witchcraft murder: Killers' 'obsession' took on 'feral character'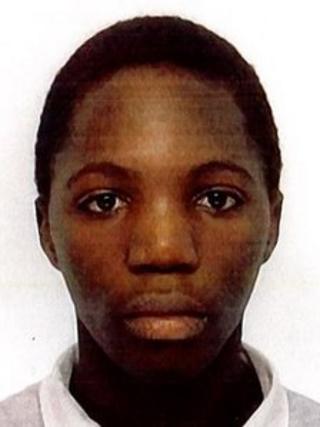 It was the 2010 Christmas holidays and teenager Kristy Bamu and his siblings were staying with their sister in east London during a visit from Paris.
But this was no happy family gathering.
When paramedics entered the eighth floor apartment on Christmas Day they found the walls, ceiling and furniture spattered with blood.
Kristy, 15, had died from drowning and being beaten with a metal bar in the Forest Gate flat.
His face was covered in deep cuts and bruising, his arms and back bore cuts and lacerations and his teeth were missing or loose.
The teenager had sustained 101 injuries during a ferocious attack stretching over days.
The other children were found "hysterical and terrified".
Two of Kristy's siblings had also been victims of beatings and torture.
Kristy's sister Magalie Bamu, 29, and her partner Eric Bikubi, 28, both from Newham, east London, have been convicted for their part in the brutal killing.
But it was an "obsession" with witchcraft and sorcery that led them to torture and brutalise the children, the Old Bailey heard.
'Feral character'
The mood had started to turn sour when Bikubi accused the children of being sorcerers - practising witchcraft - and controlling and adversely influencing a young boy, the jury was told.
The defendants originally came from the Democratic Republic of Congo, where witchcraft or sorcery - called kindoki - is practised in some churches.
But African witchcraft expert Dr Richard Hoskins made it clear to the court there was no provision in Congolese life and culture for the maltreatment and abuse of children.
Prosecutor Brian Altman, QC, said that taken out of the church's control, kindoki could "take on a feral and indeed evil character, as we suggest it did here".
Bikubi and Bamu accused Kristy, his sister Kelly Bamu, 21, and another sibling of practising witchcraft which adversely influenced another child.
The three were beaten, refused food, drink and sleep. Eventually to stop the torture they admitted being sorcerers, the jury was told.
'Eerily calm'
The court heard Bikubi used a length of wood, a metal bar, a paint roller, a hammer, floor tiles and a bottle to strike Kristy.
Magalie Bamu used a length of wood, a paint roller, another metal bar, as well as a pair of pliers with which she twisted Kristy's ears, the jury heard.
Emergency services described how Bikubi, who moved to the UK in 1991, was "eerily calm" when they arrived.
His defence claimed he was not guilty of murder because at the time of the killing he suffered from an "abnormality of mental functioning".
Neuropsychiatrist Dr Peter Fenwick said a scan of Bikubi's brain showed lesions which "probably contributed to an abnormal mental state at the time of the offence".
But the prosecution said when Bikubi was seen by a nurse after being arrested, he said he had no mental health problems and there was no medical history of relevance.
Magalie Bamu, known as Gigi to her family, came to live in the UK in 1996 and was educated in London. She met Bikubi, who was a football coach, in about 2005.
'Absolutely unbearable'
During her defence, Bamu told the jury Bikubi had forced her to join in and attack the children.
But the court heard there was "ample evidence" that not only did she strike Kristy, but that she "stoked the fire of violence" which Bikubi had embarked on inside that flat.
"She may well be guilty of murder if she intentionally leant Mr Bikubi encouragement, for instance by what she said or did, knowing what was going on, and foreseeing that he might intentionally kill Kristy," Mr Altman said.
During the trial, it unfolded that this was not the first time the pair had accused a teenager of being possessed.
When Naomi Ilonga, who was 19 at the time, stayed with the couple for a month in August 2008, Bikubi accused her of witchcraft because she bit her nails, the court heard.
Ms Ilonga, who is now 23, told the Old Bailey: "My hair was down the middle of my back. Eric cut it very short with scissors. He said it was to release my kindoki."
Addressing her sister in the dock, Kelly Bamu said: "You are an idiot.
"I am sure she still believes, even to this day, that we are witches."
Kelly Bamu added: "It was as if they were obsessed by witchcraft and then it became absolutely unbearable."