Barnet Council staff in fourth strike over outsourcing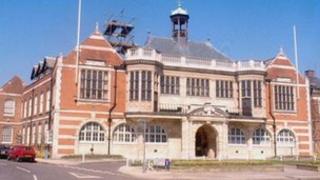 Council staff in north London have gone on strike for the fourth time in protest at outsourcing plans.
Barnet Council will put the jobs of 70% of employees and the quality of services at risk, Unison, the workers' union, has said.
Last March, Barnet approved a plan to save £53.4m over three years, putting about 350 posts out of 3,500 "at risk".
The council said it was disappointed by the walkout and would work to ensure services to residents ran as normal.
Unison has said its members want to remain employed by the authority and receive the associated terms and conditions but claimed under the One Barnet Project, 70% of staff could be transferred to the private sector inside 11 months.
Charity work
A spokesman said: "They want to remain council employees, they want in-house services to be allowed to compete with the private sector and most of all they want to serve the community they are passionate about.
"That is why a group of strikers after taking part in the picket line will depart to help out a local charity.
"Our members want to make it clear that whilst they will be withdrawing their labour from the council, they are not withdrawing their commitment to the community they are so proud to serve."
Deputy Leader Councillor Daniel Thomas said: "Previous industrial disputes have seen around 150 staff take action with 95% of staff continuing to work as normal.
"As I've said before we are committed to providing high quality services at the lowest possible cost to the council tax payer.
"Any staff who move as part of the restructure will remain in the local government pension scheme, keep the same level of pay and have a job guaranteed for 12 months at the very least from their move.
"I'm sure many of our residents would envy that level of certainty in the current financial climate."