Police lose immunity plea in Azelle Rodney gun death inquiry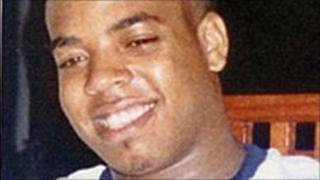 Scotland Yard has lost a court bid for firearms officers to be allowed to give evidence from behind a screen at an inquiry into a fatal police shooting.
Police lawyers had asked the High Court to quash the inquiry chairman's refusal to allow them to be screened from view.
Azelle Rodney, 24, was in a car when an officer fired in Edgeware, north London, in April 2005.
The High Court ruled only the officer who fired the shots could be screened, not the 13 other officers involved.
Police said the officers were fearful of potential "revenge attacks".
Scotland Yard barrister Jason Beer QC said showing the officers could expose them to potential harm, and jeopardise future police work.
He said the public inquiry's chair, retired High Court judge Sir Christopher Holland, had failed to consider the officers' rights under the European Convention on Human Rights when he ruled at a preliminary hearing last month that they had to give evidence in public.
But Lord Justice Laws and Mr Justice Simon agreed that Sir Christopher's ruling was correct and the inquiry should be "as public as possible".
'Cover up'
Lord Justice Laws said: "There is in my judgment a very pressing public interest in openness of the facts of this case.
"After all, a man sitting in a car with no weapon in his hand has had eight shots fired at him at close range."
He added: "I do not consider that, in refusing screening, the chairman failed to consider and give proper weight to the concerns of these officers."
The inquiry was launched in place of an inquest after police refused to reveal secret information they said had led them to believe Mr Rodney, from Hounslow, west London, was armed.
Previously a coroner had said sensitive evidence made an inquest impossible, but the police were accused of a "cover-up" by Susan Alexander, Mr Rodney's mother.
The inquiry, which was ordered by the then justice secretary Jack Straw, is due to begin later this year.