Mayor's sponsorship deals need clarity, says Assembly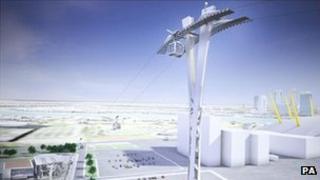 Transport for London's approach to securing sponsorship for its transport network needs to be clearer, more consistent and transparent, London Assembly members have said.
A report has criticised the tendering process for the capital's bike hire and river cable-car sponsorship schemes.
It said turning to other funds than fare revenue was for the public good.
But allowing the Emirates brand onto the iconic Tube map, for example, caused concern.
'Crown jewels'
The London Assembly report, Whose Brand is it Anyway?, was written by a cross-party selection of members.
It said that while there has been no widespread opposition to the general principle of Transport for London (TfL) using sponsorship, some concerns were reported.
These were the choice of sponsor for the 2010 New Year's Eve free travel, the process for selecting a sponsor for the cycle hire scheme and the inclusion of the River Thames cable-car sponsor's brand on the Tube map.
John Biggs, Labour Assembly Member and chairman of the Budget and Performance Committee, criticised Emirate airlines' name appearing on the iconic map as a result of its sponsorship of the cable link between the 02 Arena in Greenwich and the ExCel exhibition centre, in east London.
He said: "The risk is that this inclusion within the 'crown jewels' will be seen as some form of endorsement."
The report also criticised the level of confidentiality around sponsorship contracts.
The committee wants to know how much Barclays is going to pay to sponsor the city's bike hire scheme, other than the £50 million "ceiling" price.
The report said: "In the case of the Cycle Hire Scheme, the circumstances by which the tendering, rejection of bids, and ultimate selection of the partner took place, remain almost totally opaque.
"The contract signed with Barclays includes clauses that allow for reductions to the sponsorship payments it makes to TfL."
TfL's commercial development director, Graeme Craig, said he welcomed the report which was in line with the new sponsorship policy being devised.
He said: "This will set out the services that we would be prepared to have sponsored and the types of organisations with whom we would enter into such arrangements."
One of the committee's five recommendations is that TfL immediately releases details of the "estimated annual cash flows, along with sensitivity analysis, risk analysis and payment profile for sponsorship income".