Met Police arrest 250 in London licensing crackdown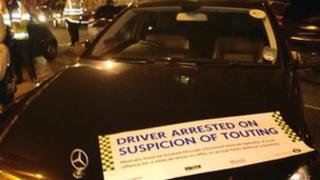 About 250 people have been arrested and 12 pubs and clubs closed as police carry out a London-wide crackdown on people flouting licensing laws.
Up to 3,000 officers are visiting shops, pubs, clubs and checking minicabs as part of the 48-hour operation which began on Friday.
Since Operation Condor began officers visited more than 3,000 premises and found 317 licensing breaches.
Up to 140 people have been carrying out test purchases from off-licences.
Commander Mak Chishty said officers were "stopping cars at transport hotspots to check for correct documentation, visiting newsagents, off-licences, supermarkets and betting shops to ensure and test licensing laws are being followed correctly".
"We are also targeting pubs and clubs to make sure they are strictly applying their permits and to ensure any informal sales of goods or drugs on their premises are dealt with appropriately."
Kit Malthouse, deputy mayor for policing and crime, said: "Most criminal networks profit from illegal licensing, whether it's selling alcohol illegally or giving youngsters access to harmful weapons.
"Cracking down on this activity means we'll see a knock on effect of a drop in robberies, violence and anti social behaviour, which is good news for Londoners."
Transport for London, council officers and trading standards are also involved in the crackdown.