Victoria Station stabbing death: Woman convicted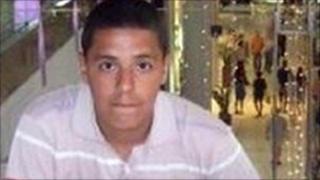 A woman accused over the stab-death of a teenager at a London Tube station has been convicted.
Victoria Osoteku was found guilty of conspiracy to cause grievous bodily harm, after Sofyen Belamouadden died.
Sofyen, 15, died after being chased by a crowd of youths into Victoria Tube station, in March 2010.
The Old Bailey jury is still considering a murder count against Osoteku, 19 and from Deptford, which she denies.
Sofyen was stabbed nine times and suffered wounds to his heart, a lung and major blood vessels.
Osoteku was the only female charged with the attack, which followed a clash between rivals from two schools.
Her trial is the latest in a series of court cases involving around 20 youths.
She has been remanded in custody.
The trial has been adjourned to Tuesday.