Malaysian student Ashraf Rossli recalls London 'robbery'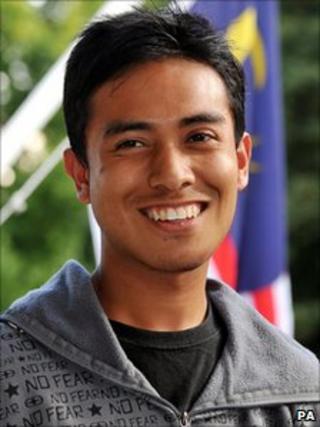 A Malaysian student has recalled in court how he was "robbed" by bogus Good Samaritans during London's riots.
Ashraf Rossli, 20, had been in Britain for just a month when he was set upon on 8 August in Barkingside, east London, Wood Green Crown Court heard.
"I knew they were stealing from me but I could do nothing," he said in a statement read to the court.
John Kafunda, 22, of Ilford, and Reece Donovan, 24, of Romford, deny robbery, theft and violent disorder.
Mr Rossli, an accountancy student, had been cycling to a scared female friend when he was punched in the face by an attacker. His jaw was broken in two places.
'Blood pouring'
Footage of the incident, which was recorded on a mobile phone and posted on YouTube, showed two men rifling through Mr Rossli's bag after helping him up.
Mr Rossli said a portable Sony PlayStation games console and 10 games were taken, valued at £500.
"I was sat on the pavement with blood pouring from my mouth," he told the court.
"I remember being approached by a male who asked if I was OK. I remember being pulled to my feet, then I felt someone again tugging at my rucksack.
"I was not in a position to defend myself and was still suffering from the effects of being hit. Once they had taken what they wanted they left."
The jury heard from a male, whose identity was withheld, who said he recognised Mr Donovan as the man seen in video footage taking goods from the victim's bag and walking away.
He said he had known Mr Donovan for "a long period of time".
A female witness, who was also not identified, said she recognised Mr Kafunda as the other man involved in the incident with the student.
She said "the fact that he was actually helping him to begin with" was another reason why she recognised him.
Mr Donovan is also charged with one count of burglary at a Tesco store, which he denies.
The case continues.