New Heathrow Terminal 2 takes step forward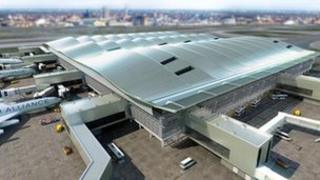 Completion of major structural work on a new £2.5bn terminal at Heathrow Airport has been marked with a topping out ceremony.
The finished Terminal 2 will open in 2014 and be capable of handling 20 million passengers annually.
It is part of a £4.3bn programme of development at the airport.
BAA chief executive Colin Matthews said the work "puts us within touching distance of a future where Heathrow has some of the best facilities in Europe".
He continued: "There's a lot still to do, but the opening of Terminal 2 could move Heathrow into pole position among European hub airports and allow us to set our sights on elite airports such as Singapore, Hong Kong and Incheon in Seoul."
'Success story'
Transport Secretary Justine Greening said: "For tens of millions of people each year Heathrow is their first impression of the UK, which is why it is so important that it is a positive one.
"We have been clear that we want to improve the experience of those travelling through our airports, and this new terminal will do just that.
"This is also a success story for the country's construction industry, with British-made steel, electronics and engineering responsible for a state-of-the-art facility."
The old Terminal 2 opened in 1955, but shut in 2009 and was demolished in 2010.
Originally designed to deal with 1.2 million passengers a year, it was dealing with eight million when it closed.
The last opening of a new terminal at the airport, Terminal 5, saw operators heavily criticised after chaotic scenes.
Labour's plans for another runway at the west London airport were scrapped by the coalition government, days after it came to power in 2010.