Bethnal Green Stairway to Heaven memorial work begins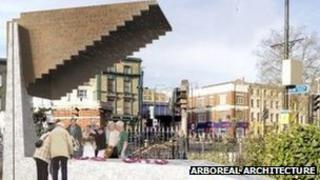 Work has begun on a permanent monument to those who died in the World War II Bethnal Green Tube disaster.
A total of 173 people, including 62 children, lost their lives on 3 March 1943, when people rushed to enter the station after hearing air-raid sirens.
It turned out to be a test. The east London disaster was the worst British civilian loss of life in the war.
Now a charity is replacing the temporary memorial with a permanent Stairway to Heaven memorial.
The work is expected to take approximately three months and the Stairway to Heaven charity said it had sufficient funds to build the foundations, plinth, plaques, landscaping and replanting.
But the charity said it still does not have enough money to add the stairway part, so needs to continue fundraising.
On the night of the disaster, a crowd of people entered the Tube station which was used at the time as an air-raid shelter.
After the searchlights went on and an anti-aircraft battery in nearby Victoria Park launched a salvo of a new type of anti-aircraft rocket, the crowd surged forward.
Someone tripped on the stairs causing many others to fall.
Nearly £500,000 has been raised so far but up to £60,000 more is needed.