World War II Bethnal Green Tube disaster 'avoidable'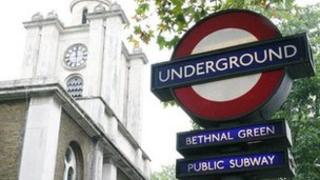 The World War II Bethnal Green Tube disaster could have been avoided, an author has claimed.
A total of 173 people, including 62 children, died in a crush on 3 March 1943, when people rushed to enter the station after hearing air-raid sirens.
The alarm turned out to be a test - and it led to the worst British civilian disaster in the war.
But author Rick Fountain, from Bromley, argues in a new book there were missed chances to make the shelter safe.
Mr Fountain quotes extensively from official papers unearthed at the National Archives.
He says they show that long before the tragedy, London Civil Defence officials rejected calls by the local council for special safety measures at the shelter.
If it had become known that the disaster had been foreseen, officials of London Civil Defence would have been gravely embarrassed, the author claims.
The book says the responsible minister, Herbert Morrison, would have faced calls to resign.
Mr Fountain said: "They were anxious and hurrying, but they weren't just throwing themselves down the stairs like so many lemmings."
Steph Brammar is the granddaughter of a warden who became the victim of local vitriol as he was perceived to have not done enough on the day.
'Cover up'
She said: "I felt huge relief when I read it [the book].
"For me it has put the record straight. I was always told the true story."
Work has just begun on a permanent monument to those who died.
The Stairway to Heaven memorial is expected to take approximately three months to build.
Nearly £500,000 has been raised for the project so far but up to £60,000 more is needed.