Witchcraft murder: Couple jailed for Kristy Bamu killing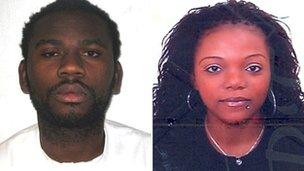 A couple who tortured and murdered a 15-year-old boy they accused of using witchcraft have been jailed for life.
Kristy Bamu and four of his siblings were visiting his sister Magalie Bamu, 29, and her partner Eric Bikubi, 28, when he was killed.
Kristy drowned in a bath in an exorcism at their flat in Newham, east London, on Christmas Day in 2010 after days of torture, the Old Bailey heard.
Bikubi was sentenced to a minimum of 30 years while Bamu must serve 25 years.
During sentencing, Judge David Paget said the murder had a "sadistic element", adding it was "prolonged torture involving mental and physical suffering being inflicted before death".
He added that the ordeal the children were subjected to "almost passes belief". However, he accepted Bikubi's defence that he had brain damage and had believed that Kristy was a witch.
But Judge Paget added: "The belief in witchcraft, however genuine, cannot excuse an assault to another person, let alone the killing of another human being."
He told Bamu he did not accept her denial of belief in witchcraft and that she was forced to attack Kristy by Bikubi.
"It is only explicable if you shared Eric Bikubi's belief. It provides some explanation for what happened, but it does not excuse it," he told her, adding that at no stage had she said sorry.
During the trial, the court heard that Kristy was attacked with knives, sticks, metal bars, ceramic floor tiles, bottles and a hammer and chisel by Bikubi and Bamu who also used a pair of pliers to twist his ear.
He drowned after he was placed in a bath for ritual cleansing.
Kristy was visiting the couple from Paris for Christmas along with his siblings, who were also attacked by the couple after Bikubi accused them of bringing "kindoki" - or witchcraft - into his home.
Bikubi beat all three of them and forced other children to join in with the attacks, the jury heard.
Kristy's sisters, aged 20 and 11, escaped further attacks after "confessing" to being witches.
But he was singled out for wetting his pants.
At one point, Bikubi told them to jump out of the window to see if they could fly. They looked to their older sister for help but instead Bamu encouraged Bikubi and beat Kristy until he also confessed to witchcraft.
In court, his sister Kelly, now 21, said: "It was as if they were obsessed by witchcraft. They decided we had come there to kill them."
She added: "Kristy asked for forgiveness. He asked again and again. Magalie did absolutely nothing. She didn't give a damn. She said we deserved it."
Bamu was also found guilty of two counts of assault, charges which Bikubi had pleaded guilty to. Judge Paget said he would not pass separate sentences for these convictions.
Henry Grunwald QC, for Bikubi, said: "What happened would not have ended as it did had it not been for Mr Bikubi's mental impairment."
Philippa McAlasney QC, for Magalie, said: "Not only has she lost her entire family, she faces a solitary life in prison."
Kristy's father, Pierre, had previously said in a statement: "I feel betrayed. To know that Kristy's own sister, Magalie, did nothing to save him makes the pain that much worse."
Scotland Yard said it had investigated 83 cases involving abuse resulting from ritualistic or faith-based beliefs over the last 10 years.
Det Supt Terry Sharpe said: "The sentencing reflected the brutality and sadistic cruelty inflicted on Kristy in the days leading up to his death.
"This is a hidden and under-reported crime and therefore difficult to deal with in terms of protecting potential victims from harm."
Related Internet Links
The BBC is not responsible for the content of external sites.