Man who 'faked his own death' sentenced for fraud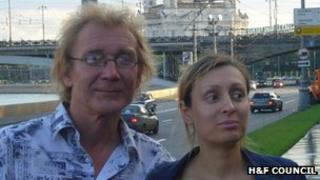 A man who defrauded Hammersmith and Fulham Council of £15,000 and "faked his own death" has received a 32-month sentence.
Stephen Kellaway, 54, pleaded guilty to four counts of fraud, said Croydon Crown Court.
His wife returned to the UK from Russia in 2008 carrying an urn containing what she said were Kellaway's remains, said Hammersmith and Fulham Council.
The authority said he went to "extraordinary lengths".
Kellaway, formerly of Uxbridge Road, Shepherds Bush, was arrested in 2011 after a period abroad.
An investigation by the council found that he had submitted a claim for housing and council tax benefit in March 2008, but failed to declare assets.
A spokesman for the council said Stephen and Nelli Kellaway had withheld vital information.
He said: "He did not mention rental income from property in Camden and nearly £200,000 he and his wife had in savings."
Councillor Greg Smith, cabinet member for residents services, said: "This rogue went to extraordinary lengths to avoid detection.
"We will be doing everything we can to seize this man's assets."
He was sentenced earlier at Croydon Crown Court and will appear on September 10 for a confiscation hearing, said the court.