Gilbert & George exhibit 'stolen' billboards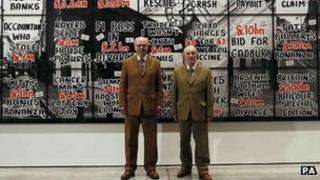 Artists Gilbert & George have unveiled their latest exhibition - a series of pictures made up of thousands of stolen newspaper billboard posters.
George Passmore and Gilbert Proesch spent years collecting them before making them into 292 pictures.
Mr Passmore said: "It was very naughty because we realised very early on in the project that we couldn't get them legally."
London Pictures goes on show in the three White Cube galleries on Friday.
Mr Passmore added: "Nobody would let us have them, the publishers wouldn't keep their old copies, the shopkeepers wouldn't let us have them, they were very aggressive and very suspicious so we decided we would have to steal them all and one by one we stole 3,712.
"It was quite complicated to do."
The pair, who have worked together since meeting at St Martin's School of Art in 1967, are known for their immaculate tweed suits and often subversive and frank artwork involving sexual themes, religious symbolism and bodily fluids.