Bob Marley's 'Is This Love church' destroyed by fire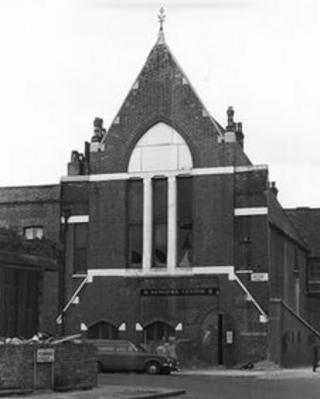 A church in London where Bob Marley filmed the video for his Is This Love song has been destroyed by fire.
About 40 firefighters tackled the blaze at the Christ Apostolic Church in King's Cross on Thursday night.
The three-storey building has been severely damaged and 20 people had to be evacuated from adjacent properties.
The 1978 video was filmed at the building which was home to Keskidee, thought to be the UK's first cultural centre for the black community.
The London Fire Brigade had been called to the church on Gifford Street at about 21:30 GMT.
Station manager Mick Sawyer said firefighters spent much of the night at the scene damping down. The fire started on the ground floor and spread to the roof.
Dub poetry
The Keskidee Centre was founded in 1971.
It became known for its theatre productions and toured Europe, the US and New Zealand. It also claimed to be the birthplace of dub poetry, a form of performance poetry of West Indian origin.
For many years, it was the only place to experience black theatre in London.
In 1978, reggae legend Bob Marley chose the centre as the setting for his Is This Love video, which starred a young Naomi Campbell, aged just seven years old.
The centre closed in 1991 following funding problems and the building was bought by the Christ Apostolic Church.
Last April, Islington Council unveiled a green plaque - which honours notable Islington residents and places in the north London borough - on the building to mark the 40th anniversary of the opening of the Keskidee Centre.
Councillor Catherine West, leader of Islington Council, said: "This was a serious fire and I am very thankful no-one was hurt.
"The church was the site of the former Keskidee, Britain's first arts centre for the black community, and many residents still have memories of its heyday in the 70s and 80s."