London 2012: Olympics missile sites considered for Blackheath and Shooters Hill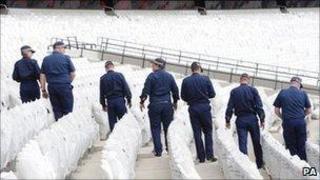 The Ministry of Defence (MoD) is considering plans to install surface-to-air missiles in Blackheath and Shooters Hill during the Olympic Games.
The MoD said it had taken military advice to identify sites to base the defence systems to protect the skies over London in the event of an attack.
Eltham and Plumstead MP Clive Efford said he was concerned at the "lack of consultation".
The MoD said no final decision had been made to use the air defence systems.
Mr Efford said he had now written to Defence Secretary Philip Hammond to complain about not being consulted.
The Labour MP said the first he heard about the plans was when half a dozen trucks and trailers arrived at Oxleas Wood, near Shooters Hill in his constituency.
'Alarmed at news'
"I accept there has to be security for the Olympics and inconvenience but there are proper processes to go through," he said.
"I would have expected a full briefing from the minister. This is a site of special scientific interest so I was alarmed when I heard. I have no idea of the scale of this plan and what damage might happen."
Lewisham East MP Heidi Alexander, whose constituency covers Blackheath, said she was unhappy with the way the MoD had been handling communications on the issue.
She said: "The idea of a terrorist attack on the Olympics is something that none of us wants to contemplate. Having said that, all of us would expect the government to plan for it.
"I can't say I like the idea of missiles on Blackheath but if the military and security experts think that is necessary to have a last line of defence to deal with all eventualities, those defence systems will have to go somewhere.
"We are told that no decision has yet been taken but given the testing and evaluation work that is under way, I think that local people have a right to know what is being considered and at least be able to get answers to basic questions."
Temporary deployments
A MoD spokesman said: "As announced before Christmas, ground based air defence systems could be deployed as part of a multi-layered air security plan for the Olympics, including fast jets and helicopters, which will protect the skies over London during the Games.
"Based on military advice we have identified a number of sites and, alongside colleagues from the Metropolitan Police, are talking to local authorities and relevant landowners to help minimise the impact of any temporary deployments.
"As part of our ongoing planning, we can confirm site evaluations have taken place. However, no final decision on whether or not to deploy ground based air defence systems for the Games has been taken."
In November Defence Secretary Philip Hammond confirmed ground-to-air missiles will be deployed to protect the 2012 Olympic Games in London if deemed "operationally necessary" but gave no indication at the time where these might be installed.