Nathan McLeod jailed for Temidayo Ogunneye murder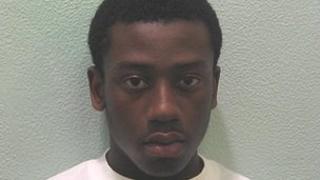 A 16-year-old boy who stabbed another teenager to death in south-east London in a row over a stolen mobile phone has been given a life sentence.
Temidayo Ogunneye, 15, had gone to retrieve his phone from Nathan McLeod, who had robbed him earlier.
He was stabbed outside flats in Cormont Road, Camberwell, last May after a fight broke out, the Old Bailey heard.
McLeod, of Thornton Heath, was ordered to serve a minimum of 14 years in prison.
The teenager had admitted two counts of robbery but denied murder.
The court was told Temidayo had tried to run away from the fight but slipped on a patch of grass and was stabbed.
The court heard Temidayo and his friend had their phones stolen by McLeod and two 19-year-olds, Kieron Carew-Donaldson and Darius Kwakye.
Hours before the fatal attack, McLeod, who was 15 at the time, had appeared at Camberwell Youth Court accused of a knife attack on a man who had come to service a boiler at his home, the jury heard.
McLeod and Carew-Donaldson, of Brixton, admitted taking the victim's phone and another belonging to his friend while Kwakye, of Camberwell, was found guilty of the charges.
Judge Gerald Gordon told McLeod: "You went on the offensive using that knife to fatal effect ending the life of a 15-year-old and bringing tragedy to his family."
Kwakye was sentenced to two years while Carew-Donaldson was sentenced to 20 months.