London Riots: Accused Laura Johnson 'not acting under duress'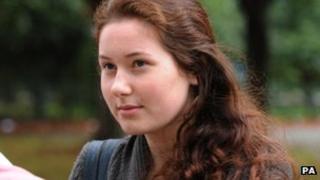 A student accused of driving looters around during the London riots was "not acting under duress", a court heard.
Laura Johnson was seen putting a box on the seat of the car she was driving, Inner London Crown Court heard.
Miss Johnson, 20, of Orpington, south-east London, denies five counts of burglary and three counts of handling stolen goods.
She is accused of stealing £5,000 worth of electronic goods during the disturbances, last summer.
"The prosecution say that any talk of duress is no more than a red herring in this case," Sandy Canavan, prosecuting, said.
"This is a young lady who exercised extraordinarily bad judgment that night.
"She knew what she was doing, she did it for whatever reason seemed good to her at the time, but not under duress."
Windscreen smashed
The court heard that on the night of 9 August, a man was driving past a retail park, near the O2 leisure park in Greenwich, south-east London, when he noticed people carrying items out of several stores.
The court heard he saw a woman in a black car and told police he saw people loading things into it before she drove off.
He also followed the vehicle and even took a picture on his mobile phone, the court heard. The female driver, he told police, did not appear distressed.
Ms Canavan said: "The white female driver of the car, we say that's Ms Johnson, went over, picked up the Goodmans box and put it in the front seat of her car."
"He remembers seeing three black men running backwards and forwards to the car, putting things in it."
On his way back from Chingford he went back to the retail park and spotted the car again, but this time it had been stopped by police.
'Talk of gun'
The witness approached the officers, just as they smashed Miss Johnson's windscreen, to stop her driving off after revving the engine, the court was told.
The accused student had told police three boys jumped into her car and ordered her to drive, Ms Canavan said.
In her defence case statement, Ms Johnson also said there was talk of stabbing people, talk of a gun, and one man had been playing footage on a mobile phone of someone being tortured.
Ms Canavan said: "The prosecution say, if what you are saying is true, the time to have said it is when you were safely with the police.
"Getting out and helping yourself to the Goodmans box discarded by one of the other individuals is hardly the action of someone who is being forced to drive around."
The case continues.