Stolen Easter egg makes £42,000 at auction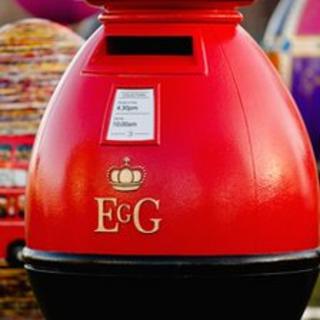 A giant egg which was stolen from a London street has sold for £42,000 at auction.
The decorated fibreglass egg by artist Benjamin Shine went missing from Carnaby Street in February.
Police tracked down the 2ft 6in (74cm) egg and returned it to organisers of the charity event which saw 200 eggs placed across the city.
Money raised from the sale will go to Action for Children and conservation charity Elephant Family.
Mr Shine said: "Seeing it raise such a great amount really is wonderful.
"From its egg-napping to the international media campaign that spontaneously erupted for its safe return, to the miraculous discovery by police, this very British egg certainly had a real London adventure."
Other eggs sold on the night at Sotheby's included one signed by Prince Charles and the Duchess of Cornwall which went for £51,000.
The priciest was a 127-carat emerald and gold egg pendant created by Fabergé, which raised £70,000.
Sales of other eggs which had been displayed on the street have raised £667,000 so far.