London 2012: Waltham Forest pays for Olympic torches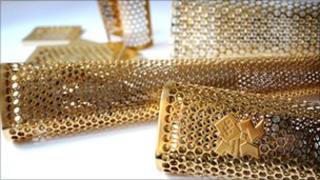 A London council has offered to pay the £199 that Olympic torchbearers will be charged if they want to buy their own torch as a memento.
Olympic organisers Locog defended the cost, saying a torch costs £495 to make and it was subsidising the price.
But Waltham Forest Council has said it will pay for any of its residents running in London as a torchbearer.
Council leader Chris Robbins said he hoped other London boroughs would follow suit.
A Locog spokesperson said: "We believe that this sale offers good value for a best-of-British designed, engineered and manufactured limited edition product.
"Despite the high design specification of the torch, Locog wanted to make sure that torches were affordable for all of the 8,000 torchbearers."
'Lot of fuss'
But Mr Robbins said: "To be honest it seems a bit rich to expect residents of an Olympic host borough to fork out so much money, especially when they've done some amazing things and got some very special stories to tell.
"We hope that this gesture will be picked up by other London boroughs so that all of the capital's torchbearers will be left with a brilliant memento from London 2012."
When the price tag was announced, a number of torchbearers expressed concern.
Thomas Read, who will carry the torch in Dartmouth, said: "I will need to think long and hard about whether or not to buy the torch.
"It would be a great souvenir from the day, but £200 is an awful lot of money to have to pay for it."
Damien Davis, who will carry the torch through Ludgershall in Wiltshire, said: "Locog have made a lot of fuss about 50% of the torchbearers being aged between 12 and 24.
"How are these youngsters supposed to afford £200 to keep their torch?.
"Why should anyone who can't afford to buy it be excluded?"
Locog aims to sell torchbearers the actual torch they ran with, once the gas canister has been removed and the burner system disabled.