Bomber Command families criticise memorial invitations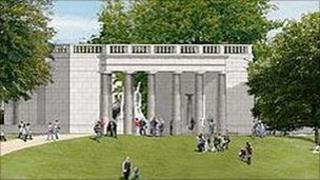 The families of RAF Bomber Command servicemen have said the ticketing process for the unveiling of a monument for the crew who died in World War II has been confusing and unclear.
They said many people had been waiting for invitations to the dedication of the monument in central London in June.
The Bomber Command Association, which is organising the event, said clear guidance had been given.
It said applications must be made before invitations can be sent.
'A shambles'
The Bomber Command Association and the Heritage Foundation campaigned to have a permanent memorial in Green Park for the 55,573 Bomber Command crew who died.
But the association has been criticised for allegedly not effectively communicating how veterans and their families can attend its unveiling on 28 June.
Chris Harper, whose uncle Joseph Marsh died in Bomber Command, set up a website for No. 102 (Ceylon) Squadron.
He said: "It has been a shambles. People have been sat waiting for their invitations to turn up."
He said he had been informing unaware veterans that they had to apply for tickets in writing, but that some forums had said the deadline for applications was in February.
"There is no information about it on the Bomber Command Association website," he said.
"A lot of the veterans are in their 90s and their children in their 60s and not internet savvy."
The Bomber Command Association said there was no deadline for tickets and there were thousands still available.
Sophy Gardner, in charge of communications for the memorial, said members of the association had been written to, inviting applications.
She said: "Our office is staffed part time and we have been busy processing these applications.
"We will be writing again to those many thousands very shortly to advise them about attendance at the event."
But Mr Harper pointed out that not every Bomber Command veteran is a member of the association.
'Tickets available'
Marie Buckfield's father, Vincent Barr, is 96. He lost all his crew when he was shot down over Denmark in 1940 and spent five years as a Prisoner of War.
Despite health problems, his 37-year-old daughter said he had expressed a "big interest" in attending the event, but thought he had missed the deadline to get a ticket.
She said: "If it was the last trip he ever made I would do everything in my power to make sure he made it.
"Somebody somewhere has contact information for dad."
Douglas Radcliffe, secretary of the Bomber Command Association, said he could not give an exact number but that "well over 3,000 applications" had been received.
Despite contrary advice, it is still possible to apply for tickets, he said.
"When the tickets have been printed we will allocate them," he added.
He said there were up to 5,000 available at the moment but more may be needed.
"There is no deadline," he said. "Two or three people are obviously not aware. How can we invite them if we don't know who they are?"
Those who have applied are yet to be notified about whether they have tickets.
Mr Radcliffe said people should apply by writing to Bomber Command Association, RAF Museum, Grahame Park Way, Hendon, London NW9 5RR.