Elephant and Castle sports centre plans include high-rise tower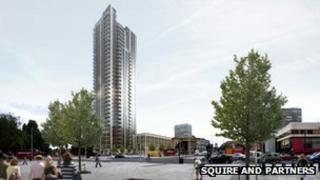 A high-rise residential building and sports centre are among regeneration plans announced for an area of south-east London.
The proposals for the existing Elephant and Castle leisure centre site have been shown to the public for the first time at an exhibition in the area.
Developer Squire & Partners has confirmed it will not include affordable housing.
A high-rise tower between 32 and 37 storeys tall is in the plan.
The proposal forms part of Southwark Council's £1.5bn regeneration plans for Elephant and Castle that will be carried out over the next 15 years.
'Opportunity area'
The leisure centre will include a 25m swimming pool, the first on site for more than a decade - the previous pool closed over 10 years ago.
The leisure facilities will also include a learner pool, four badminton courts, and a gym.
Regarding the lack of affordable housing, a spokesman for the Labour-led Southwark council said: "The decision not to include homes for rent in this scheme is an exception to normal policy.
"This approach is necessary to help fund a new leisure centre which the council sees as a vital part of the social and community infrastructure needed to support the regeneration of the area.
"The council is still confident that it will meet its target of 35% affordable housing across the whole opportunity area."