Laura Johnson 'duped into driving looters during riots'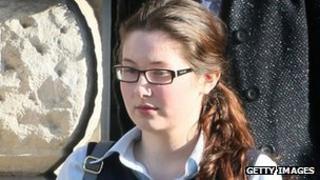 A student was "duped" by a friend into driving looters around south-east London during the summer riots, Inner London Crown Court has heard.
Laura Johnson, 20, of Orpington, who denies three counts of burglary and three counts of handling stolen goods, said she was acting under duress.
Emmanuel Okubote asked her to meet in Catford on 8 August but she claimed she had no idea what was going to happen.
Her lawyer described Mr Okubote, 20, to the jury as a "man with two faces".
The prosecution alleges she voluntarily drove Mr Okubote, whom she knew as T-Man, and some looters during the riots.
But Miss Johnson has previously told the jury she could not say no and was ordered to drive them around, as some of the occupants robbed and looted people at knifepoint.
Martin McCarthy, defending, said the Exeter University student knew Mr Okubote as a charming man who had listened to her speak about her mental health problems.
The intelligent and well-educated woman, who comes from a wealthy family, was fragile, the jury heard.
Mr McCarthy said: "Although she may well have been vulnerable, is it likely that she would have been drawn into this world by August?
"Had she been turned almost overnight into this looting, thieving girl who wanted for excitement to be amongst this group of people?"
Describing Mr Okubote, the lawyer said: "A charmer with women, a man who had an ability to make women feel wanted or special.
"He was perhaps a listener, someone who women would be drawn to and feel able to discuss things with because that's what he wanted to achieve.
"Amongst men he was the boss of men. He was a man who was capable of having others of his group and character accept his instructions almost without quarrel.
"He was someone who at the right time was able to exhibit violence and threats."
'Flirtatious text messages'
During the months the student came to know Mr Okubote, he deliberately showed a side of his personality to draw her in, the court was told.
The lawyer also said Miss Johnson's claim that she was raped weeks before the riots was not intended to gain sympathy, but she had "confided in exactly the wrong person because that trust was repaid in a way that was not deserved".
The barrister said that while Mr Okubote sent flirtatious text messages to Miss Johnson in the days before 8 August, his messages to other people showed that he was planning to rob and loot.
Mr McCarthy added: "She was not in on it. She was being duped.
"There is not a single shred of support for the idea that Laura Johnson knew what was going to happen that night before she arrived."
The case continues.