Londoners to be allowed to patrol their streets - Brian Paddick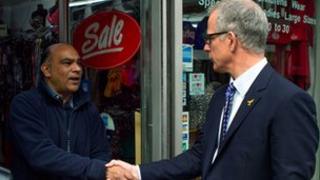 The Liberal Democrat candidate for London mayor has vowed to allow residents to patrol their streets and have their say on police deployment.
Brian Paddick said he wanted "New York-style" policing in London, with police focussing on neighbourhoods and more visible patrols in travel hotspots.
His Labour, Conservative and Green opponents have all promised to commit more officers on streets.
Londoners are due to go to the polls on Thursday, 3 May.
'Reclaim their streets'
Unveiling his crime manifesto, Mr Paddick, who was an officer in the Metropolitan Police for 30 years, said that if he was elected he would increase the number of officers in London.
Mr Paddick said he also wanted to see every neighbourhood have its own "policing plan", where residents and businesses would discuss police deployment in their area with officers.
He said Londoners should be able to "reclaim their streets" with residents forming patrol groups to be the "eyes and ears of the police".
Mr Paddick said: "As a former senior police officer, I know the best way to cut crime and restore trust in the police is to get people and officers working together. That's exactly what I will do as mayor."
He also promised to appoint a policing ombudsman for London to "enforce tough and clear standards of conduct over behaviours that have brought the police into disrepute, such as abusing stop-and-search measures, racist attitudes and corrupt relations with the media".
The Labour Party said its candidate Ken Livingstone wanted to "put a police officer in every school that wants one, not just to tackle crime there, but to foster relationships between young people and the police".
A spokesperson for the Green Party candidate Jenny Jones said: "The next mayor must get police officers out from behind their desks and onto the streets, working more closely with local residents and traders and getting more intelligence from local people who trust them."
On Monday, the existing mayor, Conservative Boris Johnson, said that if he was re-elected, an extra 2,000 officers would be added to safer neighbourhood teams - an addition of up to three officers and three special constables for every team.