London Councils in tougher dangerous dogs law call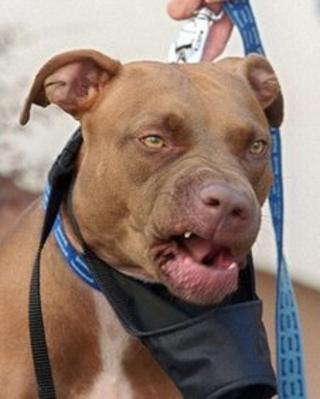 Local authorities in London have called for an increase in the penalty for owning a banned type of dog.
London Councils, which represents 33 authorities, wants the penalty to be brought more in line with carrying an offensive weapon.
The group said it supported extending the law to include private land, to protect people such as postal workers who visit houses as part of their work.
The government said it was an issue it took extremely seriously.
Three police officers were injured by a dog in Newham, east London, about two weeks ago.
Two of the officers needed skin grafts and plastic surgery.
Metropolitan Police Federation chairman Peter Smyth said one of the officers had suffered "life-changing injuries", but added that most officers would say it was "stupid" to bring the penalty in line with carrying an offensive weapon.
'Status dogs'
London Councils said the number of dogs seized by the Metropolitan Police rose from 193 in 2006 to 1,107 in 2010.
Councillor Claire Kober, executive member for crime and public protection, said: "People were sickened by the recent dog attack on policemen in east London, and they are worried about dangerous, uncontrolled dogs and thugs using 'status dogs' as weapons."
She urged ministers to publish plans as soon as possible.
Mr Smyth said he understood the concerns local councils had but that it was "crazy to say a particular type of dog is inherently dangerous".
He said: "It's not about the dog but the person who's got the dog and how they train the dog.
"You can't say that a dog is an offensive weapon because you have to show intent to use it dangerously."
The Dangerous Dogs Act 1991 bans four types, rather than breeds - the pit bull terrier, Japanese Tosa, Dogo Argentino and Fila Brasileiro.
The owners of specially controlled dogs are required to fulfil obligations including making sure the dog cannot escape from the home and keeping a muzzle on it in public.
The maximum penalty for having a dangerously out of control dog which injures someone is two years in prison.
The maximum for carrying an offensive weapon is four years.
The Communication Workers Union (CWU), which represents postal workers, said ministers had pledged to make an announcement before the Easter recess, which started last week, but had broken their word.
CWU general secretary Billy Hayes said: "How many more tragedies will it take for the government to stop the irresponsible shilly-shallying of the past two years?"
A spokesman for the Department for Environment, Food and Rural Affairs, said: "We will very shortly be announcing a package of measures to tackle the problems caused by irresponsible dog owners.
"This is an issue we take extremely seriously and so have taken the time necessary to get the policy right."
The Sentencing Council, which produces sentencing guidelines, said guidance was being prepared.