Water fountains in London turned off over hosepipe ban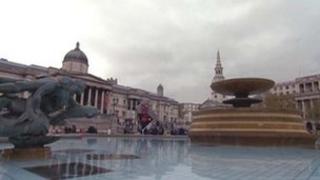 Water fountains across London have had their water supply turned off as part of the hosepipe ban.
The restriction has affected 30 fountains across the capital.
It came into force on Thursday, but the fountains have only now been turned off as their water supply has run dry.
The measures are set to be in place all summer however the Greater London Authority is pushing for the Trafalgar Square fountain to be turned on for special events like the Olympic Games.
The authority also wants to have the Grade II-listed fountain turned on as part of celebrations for the Diamond Jubilee.
'Have to be practical'
A spokesman for the authority said: "We believe Thames Water appreciates the importance to London and the country of these fountains during what will be a summer like no other and are working with them to find a way to keep them running with the minimum amount of additional water being required."
Other fountains affected include Venus in Sloane Square, and those in Hanover Square and Bessborough Gardens.
The Diana Memorial Fountain in Hyde Park is not affected as it has its own borehole supply.
Thames Water sustainability director Richard Aylard said the ban could extend into the autumn "unless we have an unusually wet year".
He also said the company's leakage rates were not "obscene" but were high.
Mr Aylard added: "With this ban we would expect to see up to 150 million litres of water a day saved.
"To get the same saving from replacing leaky pipes would cost £1.2bn and take 10 years, so we have to be practical about this."