London mayor election: Jenny Jones launches Green manifesto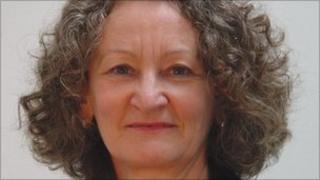 London's Green Party mayoral candidate has unveiled her manifesto, saying the capital should be "a model for the world in addressing climate change".
Jenny Jones set out her vision for "a city more equal, healthy and affordable for everyone".
Londoners are due to go to the polls on Thursday, 3 May.
Labour's Ken Livingstone has pledged to cut Tube fares by 7%, while Conservative Boris Johnson plans to cut Tube delays by 30% by 2015.
Liberal Democrat Brian Paddick has pledged to create a one-hour bus ticket.
Ms Jones said: "We must cut our carbon emissions and be more responsible global citizens.
"We must protect green spaces, create jobs and look for creative solutions to the massive shortage of affordable housing."
Her manifesto includes five key promises:
Cutting fares and reducing traffic, ensuring public transport is always cheaper than driving and cleaning up London's polluted air
Improving green spares and the environment, giving everyone access to nature and generating clean energy from waste
Making housing more affordable, refurbishing a million homes and stabilising rent levels
Reducing the gap between rich and poor, offering a job or apprenticeship to all young Londoners and creating a "fair pay mark" for companies which reduce pay inequality
Rebuilding trust in policing, putting more officers on the beat and stopping the cuts to back office staff.
Responding to the manifesto launch, a spokesman for Mr Livingstone said: "Ken has an effective and serious plan which will ease the squeeze on the majority and put money back into the London economy."
Mr Johnson has said: "Through working hard to cut waste in the Greater London Authority, freeing up £3.5bn for services and securing a better deal for London from Number 10, we will directly create 200,000 jobs for Londoners."