Brompton Road Tube ghost station resurrection plans announced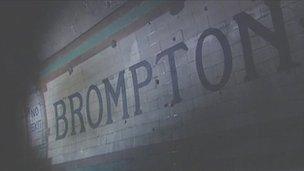 ''When we first went in with torches, the place was crackling with atmosphere," said entrepreneur Ajit Chambers.
"We are holding this feeling, bottling it and showing the world's tourists just how amazing the history of London is."
Then Prime Minister Winston Churchill watched over the Royal Artillery's anti-aircraft operations during World War II from a secret command centre at Brompton Road Underground station.
Now Mr Chambers has announced the abandoned Tube station in south-west London is the first he plans to develop into a tourist attraction he says will be "comparable" to the London Eye and Madame Tussauds.
"Proceedings began this morning to purchase our first abandoned Underground station," Mr Chambers said.
"This site is perfect for what we want to use it for," said the man who owns The Old London Underground Company.
"We would like to have a rooftop restaurant, and use the deep drop shafts for climbing walls," he said.
Mr Chambers is working with the Ministry of Defence (MoD), which owns many of the stations, to lease the sites, he calls "ghost stations".
He has also been in talks with the Greater London Authority and Transport for London (TfL), which owns the network.
They have both said they are "in principle" in favour of the proposals, provided suitably detailed and properly funded plans are put forward.
Brompton Road Tube opened in 1906 on the Piccadilly Line, positioned between Knightsbridge and South Kensington.
But it was permanently closed 28 years later when nearby Knightsbridge was modernised and given a new entrance, and after diminishing footfall Brompton Road was deemed to be no longer economically viable.
The station was taken over by the MoD and became a central part of the war effort, of which some of the evidence is still in remarkable condition.
Maps of London still hang from the walls of the war room where the anti-aircraft command centre used to be.
It is thought Rudolf Hess, Adolf Hitler's deputy in the Nazi Party, was brought to the station to be debriefed after being captured in Scotland in 1941.
Brompton Road is not the only station Mr Chambers has his sights set on.
At least 21 stations remain abandoned on the network, but TfL has warned some might prove a challenge to develop.
"The majority of our disused stations are in direct proximity to the operational railway which would present a significant safety challenge," said TfL spokesman David McNeill.
"Most have not been in public use for many years and would require significant investment before they could be used regularly by members of the public.
"We have explained to Mr Chambers that we would consider proposals from him.
"However, given the safety and operational issues involved and the need to protect public money, a proposal would have to be reasonably detailed."
A spokesperson for the Greater London Authority said: "Ajit Chambers met with the mayor and officials from London Underground last September where it was agreed that follow up discussions with London Underground would take place and if a comprehensive commercial proposal was received then it would be considered."
Mr Chambers remains enthusiastic about the potential of certain sites including Down Street, another former Piccadilly line station, which lies between Green Park and Hyde Park Corner, and was closed in 1932.
Also, frequented by the cabinet during the war, it still contains a bed and bath thought to have been used by Churchill.
"That's the one people will get really excited about," Mr Chambers said.
"The legacy of these ghost stations is better to experience in person than can ever be described."
Related Internet Links
The BBC is not responsible for the content of external sites.