Pop-up library protest over Friern Barnet closure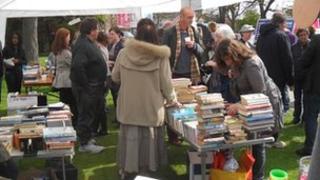 Campaigners have set up a "pop-up" library to protest against the closure of a north London facility.
The library is on the green opposite Friern Barnet library, which was shut earlier this month to cut council spending.
Save Friern Barnet Library group said it had been used by thousands of people who now had nowhere to go.
Barnet Council said it was willing "to look at long term solutions for a community library".
Residents held a five-hour sit-in protest at the library on 5 April, the day it was shut by the council.
'Deeply flawed' consultation
The council said the decision to close the facility was taken last July and a new library would open in 2013. The closure will save 20% of its £6m library budget.
But campaigners claim the consultation was "deeply flawed" and 3,000 local residents opposed it. Also, the construction of the new building has not yet started.
The group asked local residents to visit and donate books to the temporary pop-up library.
A Barnet Council spokesman said: "We've always made it clear that we'd be very happy to work with the Friern Barnet Library group to look at long term solutions for a community library in the area.
"We've been able to achieve this in the Hampstead Garden Suburb where a new permanent community library is due to open in the next couple of weeks."