Hundreds take part in Newham 10K in West Ham Park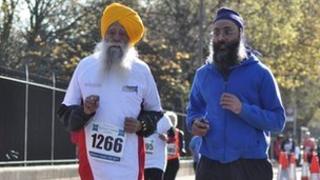 A 101-year-old man was among the hundreds of people to run in a 10K race in east London.
More than 1,400 people participated in the Newham Classic 10K 2012 race, which was held in West Ham Park.
Fauja Singh, 101, from Ilford, was the oldest participant, organisers said. Ronnie Cooper, 85, a boxer in the 1948 London Olympics, flagged off the race.
The run, organised by Tessa Sanderson Foundation, is in its fourth year. The annual event began in 2009.
Runners from Kenya, Ethiopia, USA, Germany, Sweden and Norway also took part in the event, which comes a week before the London Marathon.
Fastest timings
This is the third time Mr Singh has participated in the event. He finished the run in one hour and 17 minutes.
Last year he completed the Toronto marathon. Mr Singh plans to take part in the London Marathon next week.
Mr Cooper, a veteran of the 1948 London Olympics, flagged off the race instead of joining the runners as planned, the organisers said.
Mehertab Soloman, 22, from Kenya, won the race in 28 minutes and 25 seconds while the fastest woman was Faye Fullerton who finished the race in 32 minutes and 37 seconds.
In 2011, celebrity businessman Levi Roots and Olympian Chris Tomlinson were among the runners.