Hammersmith Flyover to close for two days for repairs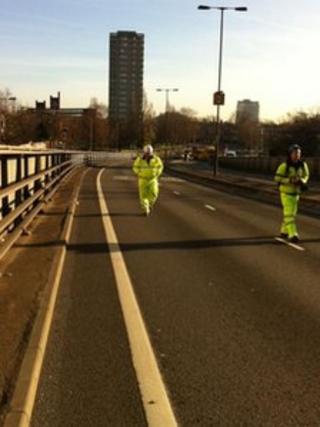 The Hammersmith Flyover in west London is set to close for two days while strengthening cables are installed.
Transport for London (TfL) will close the road on Sunday 22 and 29 April to enable the "critical works".
Serious congestion was caused when the A4 route, which is used by about 90,000 vehicles a day, was closed earlier this year due to structural damage.
Currently one lane in each direction is open to traffic however restrictions are in place for HGVs and coaches.
TfL said it hoped the flyover would be fully open in June, ahead of the Olympics.
The flyover was closed for three weeks because a steady seepage of salt water into the structure had weakened the 1960s-built structure.
The strengthening works, which began in January, have seen about 200m (650ft) of the central reservation along the flyover removed, a new structural slab and concrete barriers installed, as well as tailored anchorages for the new cables installed within the structure.
Engineers now need to install new cables above and below the bridge deck.
In order to set the correct tension, movement on the flyover needs to be kept to a minimum so the road will be closed from Saturday evening until 17:00 BST on those two Sundays.