London 2012: Protest groups target BP, Dow and Rio Tinto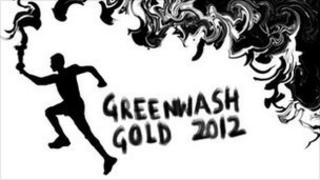 Human rights and environmental pressure groups have joined forces to campaign against three sponsors of the London Olympics.
The protest campaign - called Greenwash Gold 2012 - has targeted Dow Chemical Company, BP and Rio Tinto.
The group has made three animated films about the firms and members of the public will be invited to vote online for the "worst corporate sponsor".
All three companies have defended their ethical record.
The films include footage of:
A survivor of the Bhopal gas leak disaster in 1984. Dow agreed to purchase the Union Carbide Corporation - whose subsidiary Union Carbide India ran the Bhopal pesticide plant - in 1999. The purchase was completed in 2001.
A representative from the Gulf Coast where communities have been dealing with the environmental impact of BP's oil spill in April 2010
A woman from Utah who claims she is fighting against "life-threatening" air pollution levels caused by one of the mines from which Rio Tinto is providing the metal for the Olympic metals.
'Money talks'
Meredith Alexander, who quit as a commissioner of the 2012's sustainability watchdog in protest over the link between the Bhopal disaster and Dow Chemical Company's involvement in the Games, chaired the campaign launch.
"The Olympic values are all about celebrating our common humanity. But the Olympics is also big business," she said.
"There is an expensive machine behind the Games that is funded by corporate sponsors. Sadly when these sponsors are selected, money talks much more loudly than values."
Dow has always denied any liability for the chemical gas leak and maintains the £288m ($470m) settlement for those affected is fair and final.
A Rio Tinto spokesman, defended the company's actions saying: "We operate within the parameters of our air permits and are consistently in compliance with US Environmental Protection Agency and Utah Division of Air Quality regulations, which are based on strict standards for protecting human health."
A BP spokeswoman said: "We are 100% committed to supporting Locog in making the Games an enormous success. We do not comment on the actions of protest groups."
London 2012 is yet to comment on the campaign launch.