Go-ahead given for Queen's Park parish council vote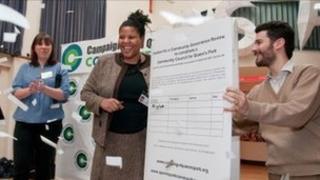 Residents in Queen's Park will have the chance to decide whether to establish the first parish council in London for more than 50 years.
About 8,000 residents are expected to participate in a referendum, due in May, following a vote by Westminster City Council.
The law allowing boroughs to create parish councils was abolished in 1963 after the formation of the Greater London Council.
A final decision will be taken in June.
'Devolving powers'
In a public consultation 87% of 408 responses to a public consultation supported the plans.
The last parish council in London was thought to have abolished in 1936.
But a 2007 law restored the power for London boroughs to establish parish councils.
Queen's Park Forum wants residents to pay £45 per year to fund services which the group fears the council will no longer be able to afford.
The council said it wanted to be clear of local support for the plans.
To raise the targeted £180,000 a year all households in Queen's Park will be required to pay a precept, including 100% benefit claimants.
Although the amount has not been finalised, the minimum amount being proposed is £3.30 per month, while the maximum is £3.70 per month. This would pay for an office and two members of staff to co-ordinate and support residents.
Robert Davis, Westminster deputy leader, said the Conservative council was "excited by the idea of localism and devolving powers down to local people".
He said: "We want to ensure that the proposals for Queen's Park have the clear support of residents who will be asked to pay an additional levy for a parish council.
"Holding a referendum will enable all residents to have their say. I look forward to the results."
Paul Dimoldenberg, leader of Westminster's Labour group said he supported the parish idea "100%".
He said: "We think it would be much better for the ward to have more people involved."
He added that the parish council law was Labour legislation.