Metropolitan Police to sell £2m riverside flat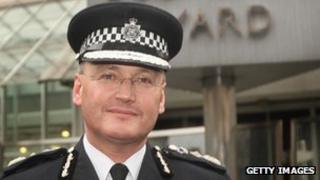 Scotland Yard has put up for sale a four-bedroom penthouse flat in west London which had been used by two former police commissioners.
The riverside apartment, which is valued at about £2m and was bought in 2005, was used by former commissioners Sir Ian Blair and Sir Paul Stephenson.
Current commissioner Bernard Hogan-Howe has never lived in the flat.
The mayor's office, which has to approve property sales of over £1m, has given the go-ahead for the sale.
A campaign spokesman for mayor Boris Johnson confirmed that he had approved the disposal of the property in William Morris Way, Fulham, near Chelsea Harbour.
He said: "It is exactly this type of needless and lavish spending under Ken Livingstone that epitomises his waste and financial mismanagement.
"Boris Johnson has been committed to cutting this waste so that Londoners' money can be spent where it is needed most - such as 1,000 more police on the street helping to cut crime by 10.8% - and this is another step in this ongoing programme."
A spokesman for Ken Livingstone said: "Boris Johnson has presided over huge spending on luxury flats, first class travel and other perks while cutting 1,700 police officers as serious crimes from robbery to knife crime were rising."
He said Mr Livingstone would "crack down on wasteful spending".