Victoria Station stabbing death boy 'had football hopes'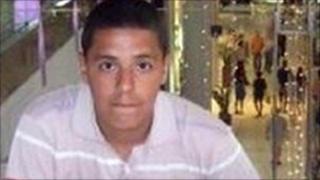 The father of a schoolboy knifed to death at a London Tube station said his son was a passionate footballer who wanted to play for England.
Abdeslan Belamouadden, 51, said his son Sofyen was "a star in the making".
Sofyen, 15, died after being chased by a crowd of youths into Victoria Tube station, in March 2010.
His father's comments were read out at the start of a sentencing hearing at the Old Bailey for eight youths convicted over his death.
Sofyen was stabbed nine times to the body and suffered wounds to his heart, a lung and major blood vessels during the 10-second attack.
The attack followed a pre-arranged clash between rivals at two west London schools.
'Such savagery'
Mr Belamouadden said his son's death had devastated his family.
"I have no wish to inflict revenge on the culprits but Sofyen, whose life was tragically cut short, would expect justice to take its course," he said.
"I often think of the suffering he must have gone through, that he was set upon with such savagery and why I was not there to protect him."
Sofyen's mother Naima's statement said: "I hope the memory of what they did to my son lives with them every day as it lives with me."
Judge Christopher Moss will sentence the youths on Friday after hearing mitigation.
The defendants, all originally from south London, were found guilty in a series of trials.
Obi Nwokeh, 19, Christopher Omoregrie, 18, and Samson Odegbune, 18, were convicted of murder.
Adonis Akra, 18, Samuel Roberts, 19, and Femi Oderinwale, 18, were found guilty of manslaughter.
Victoria Osoteku, 19, the only female charged in connection with the death, was also found guilty of manslaughter and will be sentenced next week.
A 17-year-old and Enoch Amaoh, 19, have been convicted of conspiracy to cause grievous bodily harm.
Four youths have already been sentenced to two years' detention after pleading guilty to violent disorder.
Four others are still to be tried.