London 2012: Leyton Marsh protest order renewed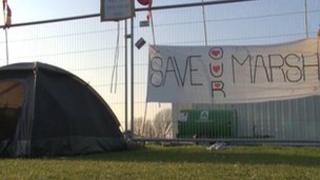 A High Court judge has renewed an order to stop "unlawful activity" by protesters opposed to the building of an Olympic training venue.
Occupy London protesters had been camped on the Leyton Marsh site to try to stop the building of the facility.
But on 4 April, a judge granted an injunction after the Olympic Delivery Authority (ODA) said protesters were stopping workers getting to the site.
Mr Justice Arnold gave his ruling after hearing from the ODA and protesters.
'Priceless' parkland
Environmental campaigners said the facility was being built on parkland filled with "lead and asbestos".
They said the facility in Waltham Forest, north-east London, was being put up in an area "landfilled" after World War II and workers were disturbing "contaminated" earth.
Demonstrators said the parkland was "sacred" to locals as a "place to relax and take refuge from the noisy urban environment".
Protester Simon Moore told the judge: "It is priceless. It serves an essential human need that no building could."
Mr Justice Arnold, who has tickets for a basketball game, praised the demonstrators' clarity and courtesy and said they had "made their points well".
"The injunction doesn't prevent lawful or peaceful protest," he said.
"[But] it seems to me it is necessary and appropriate to grant the relief sought by the ODA."
Earlier this month, protesters were evicted from the site after separate legal moves by parkland owners.
A High Court official granted a possession order to the Lee Valley Regional Park Authority.