West End's first new theatre for 30 years to be built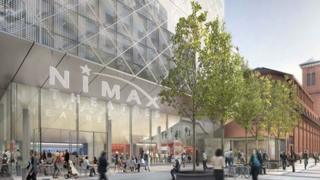 The site of a former pickle factory is set to become the location of a new theatre in London's West End.
The venue will be the first in the area for 30 years, after Westminster City Council approved the plans.
The development above Tottenham Court Road station on Oxford Street will also include offices and shops. The venue is expected to open in 2020.
The site was formerly used by Crosse & Blackwell to make Branston pickle until they moved out in 1927.
The theatre will be operated by Nimax which already runs five others in London, including the Apollo and Lyric.
Nimax chief executive Nica Burns said: "Our new theatre won't compete with those already in London. It will be a different - very intimate - space, in a great location, where cutting edge shows can be performed."
London Astoria
Ms Burns said the auditorium would be able to accommodate between 350 and 500 seats, with none having restricted views.
The London Astoria most recently occupied the site before it closed in 2009 when it was compulsorily purchased as part of the Crossrail project. The music venue was then demolished.
The redeveloped Tottenham Court Road station, between Charing Cross Road and Oxford Street, will serve Crossrail and London Underground passengers.
Once the station has been completed in 2017, developers Derwent London will start building the above-ground development which includes the theatre.
Councillor Robert Davis, Westminster City Council's deputy leader, said: "This flagship scheme marks a significant investment in the city and will play an important role in the regeneration of east Oxford Street."