Strawberry pop can in Jubilee memorabilia exhibition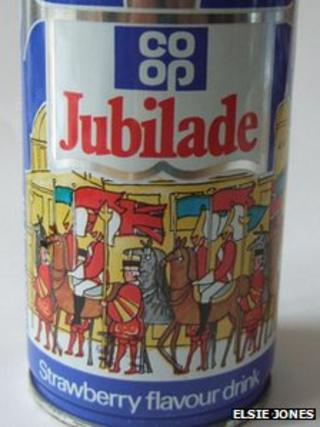 An empty can of strawberry fizzy drink created to celebrate the Silver Jubilee in 1977 will go on display as part of the Diamond Jubilee celebrations.
A portrait of The Queen made out of balloons and 100 royal teapots will also feature.
Organisers are now looking for more souvenirs to be part of the exhibition.
The display of royal mementoes begins on 3 June at the Pump House Gallery in Battersea, south-west London.
The commemorative strawberry flavoured Jubilade fizzy drink was produced by the Co-op in 1977.
Majesty mousse
Coronation handkerchiefs and royal wedding souvenir slippers are among other items loaned to the organisers.
A label for Silver Jubilee mousse will also be on display.
It was made by Findus and it was described as "raspberry and peach flavour with vanilla". The mousse cost 11p when sold in 1977.
The owner of the Jubilade can and Silver Jubilee mousse label Elsie Jones said: "I like collecting things that are odd or a bit absurd, and even at the age of 15 in 1977, I thought that a strawberry flavour drink was not perhaps the most regal souvenir.
"I kept it because I thought it was funny and an odd bit of ephemera."
As for the taste of Jubilade, Ms Jones commented: "I can't remember what it tasted like, but it can't have been good."
A drop-in day for contributions takes place at the Pumphouse Gallery on 28 April when people are invited to bring souvenirs and stories between 1000 BST and 1600 BST.
"This is a great chance for people to get involved and share their personal memories of the Royal Family", said Clare Patey, co-curator of the Thames Diamond Jubilee Festival.
"Whether you have a royal pencil case, mug, tea towel or photos; have met a member of The Royal Family or played a role in royal celebrations over the years; we would love to hear from you."
The exhibition ends on 24 June.