Diving suit man Lloyd Scott to run 2012 marathon course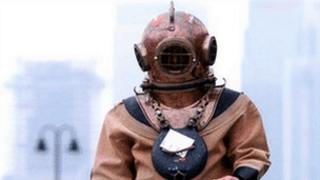 A man who was not allowed to run the London Marathon in a deep-sea diving suit has announced he will be the first person to complete the Olympic marathon route instead.
In 2002, Lloyd Scott completed the London Marathon in five days and eight hours wearing the 130lb (59kg) suit.
But rules now state all competitors have to finish on race day.
He hopes to complete the course in the suit on 2 June, to coincide with the Queen's Diamond Jubilee celebrations
He will set off from the Mall in central London on 27 May and is raising money for The Queen Elizabeth Diamond Jubilee Trust.
The Olympic Marathon route encompasses one small and three larger laps around central London taking in famous landmarks such as Trafalgar Square, St Paul's Cathedral and the Tower of London and finishes on the Mall.
'Extremely honoured'
The former footballer, who played for Blackpool, Leyton Orient and Watford, said it would be his final challenge before retiring from the event 25 years after he was diagnosed with leukaemia.
Mr Scott has previously completed the 26.2-mile course wearing a suit of armour, dragging a 300lb (140kg) dragon and crawling dressed as the Magic Roundabout character Brian the Snail.
He said his disappointment was "immense" when he was told he could not enter this year's London Marathon.
On being the first person to complete the Olympic marathon route, he said: "There couldn't be a better way to bow out from my marathon career."
He added: "I feel extremely honoured that my marathon proposal was accepted by The Queen Elizabeth Diamond Jubilee Trust.
"This will be a unique event, raising money and awareness for a fabulous cause in tribute to such an inspirational and much loved Queen."
Sir John Major, chairman of the Queen Elizabeth Diamond Jubilee Trust, said: "My fellow trustees and I wish Lloyd every success and the strength to persevere."
Mr Scott, from east London, was appointed MBE in 2005 for his services to charity, which he joked should stand for "mad, bonkers and eccentric".
He has raised over £5m for different causes and has been selected to be an Olympic torchbearer.
During the Olympics, the women's marathons will be held on 5 August, while the men's marathon will take place on 12 August.