Protesters oppose Bahrain Grand Prix at F1 HQ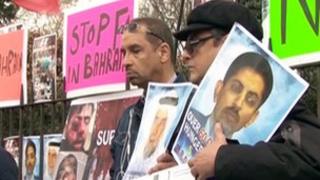 Protesters have gathered outside the headquarters of Formula 1's promotion company in London to call for Sunday's Bahrain Grand Prix to be cancelled.
The group which includes Bahrain nationals has condemned Bernie Ecclestone's decision to "put profit-making before human rights".
A man was found dead with gunshot wounds in Bahrain after overnight clashes with police.
Mr Ecclestone has said the protests in Bahrain have nothing to do with F1.
At 12:45 BST about 20 people had gathered in Knightsbridge at the offices of promoter, Formula One Management.
Human rights campaigner Peter Tatchell said: "There should be no sport as usual, while the Bahraini regime is killing and torturing its own citizens.
"Holding the Grand Prix in Bahrain is collusion with tyranny. It gives the regime respectability."
Mohammed Sadiq of the Justice for Bahrain movement added: "Formula 1 bosses should be siding with Bahrain's democrats, not with the dictatorship."
Bahrain Crown Prince Salman bin Hamad Al Khalifa has said that having the race allows "bridges to be built" and for the nation to be celebrated.
Last year's race was cancelled after pro-democracy protests.
Qualifying sessions have already taken place for this year's Grand Prix.