Man held over blinded diplomat George Fergusson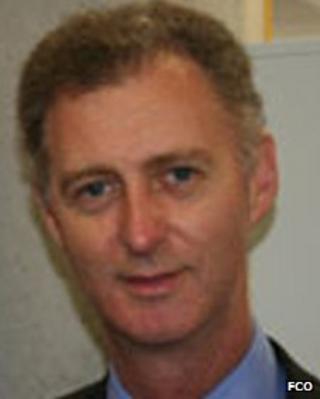 A man has been arrested by police investigating an attack on a British diplomat who was left blind in one eye after he was mugged in west London.
Doctors fought in vain to save the sight in the left eye of 56-year-old George Fergusson who was attacked and robbed at about 19:30 BST on Friday.
He had been walking through Margravine Cemetery and Park in Hammersmith.
Mr Fergusson had been due to take up the post of governor of Bermuda. Police said a man, 29, was arrested on Sunday.
He was arrested at about 18:30 BST "on suspicion of robbery and is now in custody at a west London police station," a Met spokesman said.
Mr Fergusson, who lost a small amount of cash in the mugging, lives in London with his wife Margaret.
As governor of Bermuda he will be the Queen's official representative.
A spokesman for the Foreign Office said: "He was supposed to take up his next post in May and that is still the plan."
Mr Fergusson previously served as governor of the Pitcairn Islands, as well as high commissioner to New Zealand and Samoa.
He was taking a short cut to a friend's house when he was attacked, the Foreign Office said.