London 2012: Young Londoners compete in Games venue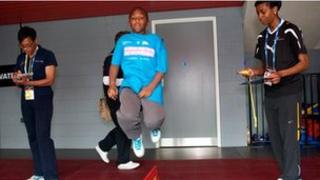 Young Londoners from the six boroughs have been playing sport in an Olympic venue.
More than 1,000 youths visited the Copper Box where Olympians will be competing for medals this summer.
The 7,500 seat venue will host competitions including handball, judo, and table tennis, during the Olympics.
The event aimed to increase participation in sport among people living near the Olympic Park.
People aged between 11 and 19 took the opportunity to try 13 sports and activities.
The venue was opened by former 110m hurdler Tony Jarrett who said: "Sport can change lives, and it is fantastic to see so many young people being given the opportunity to get involved before the Games have even started."
Tori McLelland, 10, from Hackney, said: "It's really amazing being here today and I like the fact there are so many different sports to try out.
"The Copper Box is a surprising venue and I loved it inside - really good fun and a great chance to try out an Olympic venue before the Games and feel what it must be like to be part of the Olympics."
The venue will reopen in 2013 after the Olympics as a community venue. It will be run by the London Legacy Development Corporation (LLDC).