London Marathon death: Claire Squires' Samaritans donations top £600,000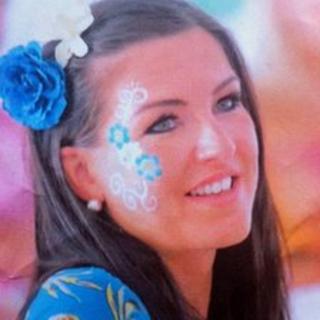 More than £600,000 has been donated to the Samaritans which was championed by a 30-year-old woman who died on the last leg of the London Marathon.
Claire Squires, from Leicestershire, collapsed near Birdcage Walk on the final stretch of the 26.2-mile course.
Since her death on Sunday more than 55,000 people have made donations on her JustGiving fundraising page.
Race organisers said a post-mortem examination had now taken place, but did not give a cause of death.
Investigations into the cause of death were said to be continuing.
The hairdresser collapsed and died near St James's Park on Sunday after completing 25 miles and was just a bend away from the finish line at the Mall.
A statement released by Virgin London Marathon on Wednesday read: "Claire's family have been incredibly moved by the measure of support and donations from the public, and are amazed by the amount raised so far, which continues to rise.
"These donations are a lasting testament to their beloved daughter and the cause in which she believed so passionately.
"Claire was particularly inspired to run for the Samaritans by her mother's 24 years of volunteer work for the Samaritans."
She was the 11th participant to die since the event began in 1981.
'Don't stop giving'
Miss Squires, from North Kilworth, chose to run the marathon for the Samaritans because her mother Cilla Squires has been a volunteer there for 24 years.
Her family described her as "incredible, inspirational, beautiful and driven".
On Monday more than 10,000 people were donating at any given time, JustGiving said.
Anne-Marie Huby, managing director of JustGiving, said: "The response to Claire Squires' tragic death on Sunday has been extraordinary.
"Out of respect for Claire's memory, we will be donating our fees back to the Samaritans."
The "huge wave of sympathy continues", the website said, with donations still coming in.
In a statement, Miss Squires's family said they were "incredibly moved by the measure of support and donations from the public".
They added: "Claire would be so happy and overwhelmed with the incredible support that has been offered by thousands of people from all over the world.
"For Claire and the Samaritans, please keep the donations coming. Don't stop giving, just like her. It's what she would have wanted."
Catherine Johnstone, chief executive of Samaritans, said: "We are truly humbled by the reaction from the public following Claire's tragic death.
"We appreciate JustGiving's kind gesture to donate their fees to the tribute fund that has been set up in Claire's memory."
The charity's annual turnover is about £10m each year, with individual donations accounting for about £3m.