Woman jailed for Victoria station killing of Sofyen Belamouadden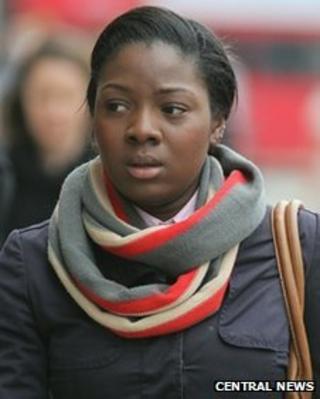 A woman who was seen on CCTV kicking a boy in the head after he was fatally stabbed in a Tube station has been jailed for 12 years for the killing.
Sofyen Belamouadden, 15, was stabbed nine times after being chased by a crowd of youths into Victoria Tube station in March 2010.
Victoria Osoteku, 20, of Deptford, south London, was found guilty of manslaughter at the Old Bailey.
Three teenagers have been detained for life for the murder.
Judge Christopher Moss said Osoteku must share part of the responsibility for the death because she assisted in buying a set of knives during her lunch hour.
Osoteku was one of 20 defendants from south London.
She was the only female charged in connection with the incident and spent 19 days in the witness box.
Heard 'gloating'
Judge Moss ordered Osoteku, who was 18 at the time of the incident, be detained for eight years for conspiracy to cause grievous bodily harm to run concurrently.
A witness said she had been "gloating" about what happened the following day at her sixth-form college.
Judge Moss added: "You were seen to deliver the final kick to Sofyen as you were the last of the group to run away."
Sofyen's mother Naina Ghailan reacted angrily to the sentence.
She said: "I'm disgusted. She's got 12 years and she'll only serve half. She's an adult and she should have got life. She planned the whole thing."
Eight teenagers, all from south London, have been found guilty in connection with the death during a series of trials.
Obi Nwokeh, 19, Christopher Omoregie, 18, and Samsom Odegbune, 18, were convicted of murder.
On 20 April they were ordered to life imprisonment with a minimum of 18 years, and eight years to run concurrently for conspiracy to commit grievous bodily harm.
Adonis Akra, 18, Samuel Roberts, 19, and Femi Oderinwale, 18, were found guilty of manslaughter and given 12 years detention each.
Tyrone Richards, 17, and Enoch Amoah, 19, were convicted of conspiracy to commit grievous bodily harm and sentenced to seven years detention.
The "ferocious and merciless" attack was the end of a minor confrontation between pupils from two west London schools the day before in the fast food area of Victoria mainline station.
Osoteku was one of the teenagers responsible for setting up the fight.
The A-level student sent messages by phone and on Facebook arranging the clash between pupils from the rival schools.
Machetes and screwdrivers
Sofyen died after being chased by about 20 pupils across the Terminus Way concourse and into the London Underground station.
Osoteku was behind a youth who led the charge with a Samurai sword. Other youths were armed with a flick knife and a Swiss army knife, machetes and screwdrivers.
She denied the charges during a five-month trial and was found guilty in February.
She said she did not kick the victim and sobbed: "I nudged him with my foot to see if he was OK."
Four youths, were sentenced on 14 October last year to two years' detention after admitting violent disorder.
Legal restrictions in identifying them have been lifted.
They are Lewis Sinclair, 18 of Claribel Road, Stockwell; Olewale Olaribigbe, 18 of Portland Grove, Vauxhall; Selassie Ahiaku of Marcella Road, Stockwell and Melvin Mensah of Vauxhall Street, Kennington.