Arsema Dawit death: High Court orders inquest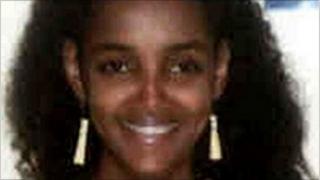 The mother of a teenager who was stabbed to death by an ex-boyfriend has won a High Court case for a full inquest into her daughter's death.
Arsema Dawit, 15, was stabbed more than 30 times in Waterloo, central London, by Thomas Nugusse in June 2008.
Nugusse, 22, confessed but he could not be tried after suffering brain damage following a suicide attempt in prison.
Because of threats to Arsema made by Nugusse, a coroner was wrong to decide against a full inquest, a judge ruled.
Arsema's mother Tsehaynesh Medihani, who brought the case after a coroner refused to hold a full inquest in 2009, hopes the inquest will shed new light on failings by the police which the family claim led to the girl's death.
Police failings
Arsema had complained to police that Nugusse had threatened to kill her, a report by the police watchdog found.
In 2010 the Independent Police Complaints Commission (IPCC) reported on "collective and organisational failings" by the police, who failed to follow up an allegation five weeks before Arsema died that Nugusse had threatened to kill her.
But the report also said that although more could have been done to save her, no-one was to blame for the death.
In May 2009, an Old Bailey jury found Nugusse had "committed the acts" and he was given an indefinite hospital order.
But in June 2009, Assistant Deputy Coroner Dr Fiona Wilcox declined to complete the inquest she had opened a year earlier.
She decided: "Whilst there were failures in the way the police dealt with the allegation... there was nothing that they knew or ought to have known of a real or immediate risk to Miss Dawit's life".
The High Court judge, Mr Justice Silber, has quashed that decision and ordered a full inquest be held as soon as possible at a different coroner's court.
Mother's distress
He found police could have taken steps which could have avoided the risk posed to Arsema by Nugusse, and these matters should be investigated further at a full inquest.
He said: "There is ample evidence to justify a credible and deeply worrying threat to kill Arsema which showed the coroner was not entitled to conclude that there was not sufficient cause to resume the inquest".
Outside court, Manal Fouad the solicitor representing Tsehaynesh Medihani, said: "Had the police carried out their duty, it is highly likely Arsema would not have been murdered.
"To add to Mrs Medihani's distress Dr Fiona Wilcox refused to hold an inquest into her daughter's death. Mrs Medihani had no alternative but to pursue a judicial review of this decision.
"Although nothing will bring Mrs Medihani's daughter back at least a full inquest will take place and thereby enable the important facts surrounding her daughter's death to be established and an appropriate verdict reached."