Billingsgate market porters face job losses in licence shake-up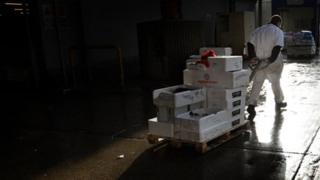 Up to 53 porters at Billingsgate Fish Market could lose their jobs when a 300-year-old system employing them is abolished, the Unite union claims.
The City of London Corporation, operator of east London market, has said a by-law, introduced in 1876 to license the porters, is out-of-date.
Unite said the licensing system had protected standards and jobs at the market, which opened in 1699.
London Fish Merchants' Association says it is unclear how many jobs may go.
Porter Paul Hinch said: "I've been a porter for about 25 years and to be truthful I'm one of the lucky ones.
"My merchant realises he does need fish porters and he's keeping me on but there's people I've grown up with and it's devastating, absolutely devastating."
Unite's Debbie McSweeney, which represents the majority of the porters, said: "There could be up to 53 porters without a job on Monday morning because merchants have not talked with them about the new arrangements.
"It's very hostile between the merchants and porters."
According to the corporation the by-law relevant to porters permits the superintendent of the market to license anyone of "good character and fitness" to be a porter.
It said the laws were "obsolete, out-of-date, irrelevant in modern times" and did not guarantee jobs or the standards of porters.
Don Tyler of the Fish Merchants' Association said the porters had agreed to a payment to end the agreement adding: "We needed to change the working practices or the market would've begun to fail."
'£200m turnover'
Billingsgate's current superintendent Malcolm Macleod said there was a "good team spirit" at the market adding: "Billingsgate has a rich history, but it's today and the future that counts.
"The market is currently full to capacity with tenants for the first time for a decade, or possibly more."
The market originally opened in Lower Thames Street.
It was relocated in 1982 to the current site near Canary Wharf, and its annual turnover is currently estimated to be £200m.