Protesters call to replace IPCC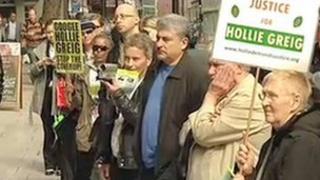 Protesters have called for the Independent Police Complaints Commission (IPCC) to be replaced with a new body.
They demonstrated outside the central London office of the IPCC, which they claim is dominated by former police officers.
Campaign4Justice claims the IPCC failed to deal with their cases fairly.
The IPCC accepted "the current system does not always meet the needs of the public".
Commons Home Affairs Committee chairman Keith Vaz has said they will hold an inquiry into the powers and future of the police watchdog.
Campaigners say a third of the watchdog's investigators are former police officers, and therefore "there is no independence in it".
Last week the watchdog called for new powers to make officers attend interviews if they witness a fatal shooting by colleagues, after it emerged that the IPCC has not interviewed any of the 31 officers present at the shooting of Mark Duggan in Tottenham last August.
Mr Duggan's death was followed by rioting in London.
IPCC 'not perfect'
In 2004 the IPCC replaced the Police Complaints Authority.
Mr Vaz said: "The committee will be conducting an inquiry into the operation, powers and the future of the IPCC. This is something that has been on our agenda for a long time."
Samantha Rigg-David, the sister of Sean Rigg, a 40-year-old man who died in police custody in 2008 in Brixton, and Alastair Morgan, whose brother Daniel - a private detective - was found with an axe in his head in a south London pub's car park in 1987, took part in the demonstration.
Suspended Met Commander Ali Dizaei who has lodged an appeal against his convictions for misconduct in a public office, was also present.
Ms Rigg-David said: "You need completely independent investigators to go in and investigate the police themselves".
Between April 2010 and January 2012, the IPCC said it received 818 complaints.
The IPCC independently investigated 54 cases and managed or supervised the Met's investigations into another 107 complaints. The rest were investigated by the Met.
The IPCC independently investigates the most serious cases, including alleged corruption, racism and someone dying in police custody.
The watchdog acknowledged the system was "not perfect" and it "does not always meet the needs of the public and police staff and officers".
"It was designed to identify who was to blame rather than looking at what went wrong and how it can be put right."
The IPCC said it has "identified a number of changes needed to improve the system", some of which will be implemented later this year.