Occupy London sets up tents in Paternoster Square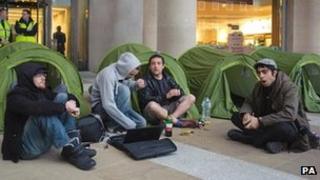 Protest group Occupy London said it had set up tents outside the London Stock Exchange following May Day demonstrations.
The group was prevented from protesting in Paternoster Square in October and so pitched tents outside St Paul's Cathedral.
An injunction is in place against protests in the square, but the group claims to have "finally done it".
City of London Police said it was aware of the protest.
Protesters had set up a row of six tents at one end of the square but they were cleared after police formed a semi-circle around the demonstration and asked protesters to leave the area.
It is unclear whether any tents remain inside the square.
'Relaxed' atmosphere
Earlier, a spokesman for Occupy London said: "This was something we have wanted to do on 15 October and we have finally done it.
"Even if we lose it tonight, it proves that we can do it. This is what it's about. This is a force that will not be stopped."
The group said tents with supplies and banners were set up at about 19:00 BST and up to 100 activists had gathered in the area.
A police spokeswoman said: "We are aware of a protest in the City and City of London Police is providing a proportionate policing response to facilitate a peaceful protest and minimise disruption to the local community."
In February, police and bailiffs evicted Occupy London protesters, who oppose corporate greed, from the tent city they had set up around St Paul's Cathedral after they lost a High Court case against the City of London Corporation.